home
I've been thinking a lot about home recently - places that we call home, places that become home, places that never felt like home until we leave. When Solange dropped When I Get Home i was in the middle of a multi month internal crisis about my relationship with Houston, the place I spent a large and pivotal part of my childhood growing up.
(my most listened to albums in the past 30 days. Can you tell i really loved the new solange ?)
Growing up, my feelings for Houston were the same as my feelings for people offering me vanilla ice-cream: this is ok, maybe even kinda good, but there are so many better options out there. So i spent most of my life wanting to leave Houston. And then I did - i went and lived in Ann Arbor, Austin, and now San Francisco. At times these places felt good (even perfect) - as if this place I am in now is definitely a better place than where I was before. But as I spent more time in each of these places, and as I kept making continuous trips back to Houston to visit family, I began to notice all the things that I grew up with that were hard to find in any other city. I'll spare you my entire arc of feelings about Houston but I will tell you how I feel about it now - I think Houston is, and has been for a long time, one of the most vibrant and poppin cities in these United States and I miss it a lot.
Not to sound corny, but listening to When I Get Home really was a tipping point for me in all of this. It felt like an homage not just to Houstons sound but also the feeling the city has. The first time I listened to Binz I felt like I was driving down Montrose, windows down, sun out - the city smelling like grass and dirt - like it often does after a night of heavy rain. Stay Flo reminds me of every song I've ever bumped loudly when driving around after midnight on I-45. The whole album feels nostalgic in a way that i find so hard to describe but so real.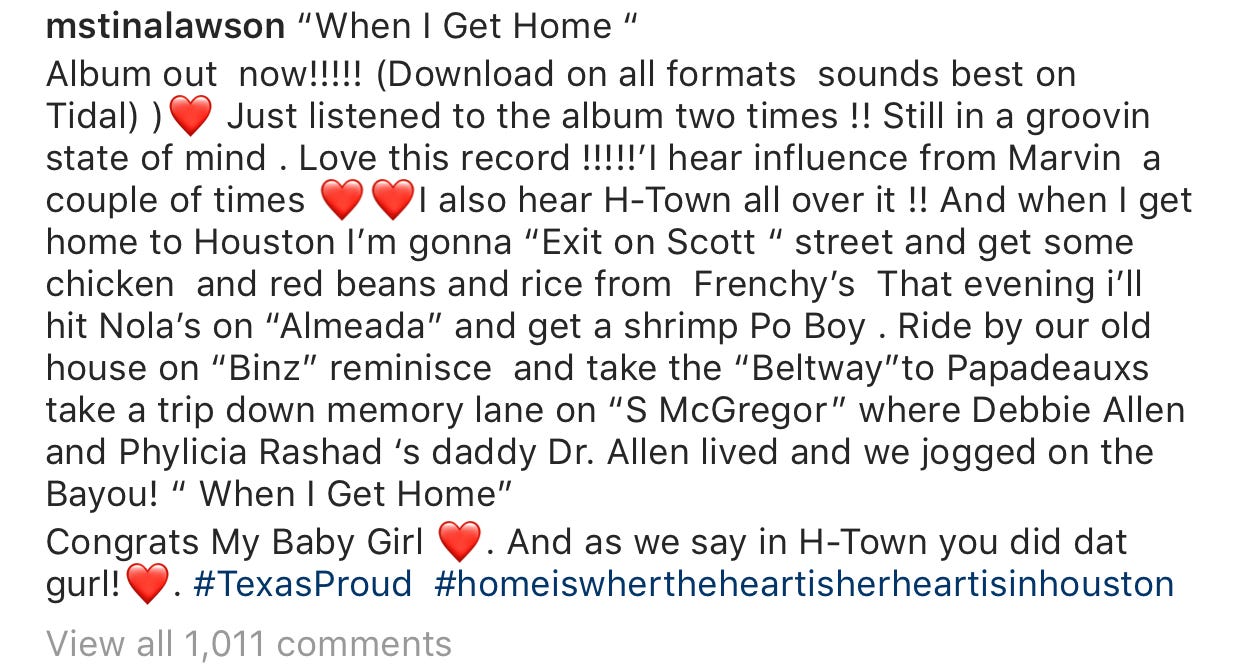 (ms tinas insta caption about all the houston references in When I Get Home should be in the MoMA)
When I Get Home is obviously an album about Houston, which I love and care for deeply, but to me it also feels like an album about learning how to call a place home - even after you've left it behind and only visit once in a while.